Natural Looking
Dentures & Partials
Nobody will know you have them, unless you tell them!
Preserve Your Oral Health
Our experienced medical team uses the latest 3D dental technology for the design and manufacture of dentures to ensure better fit and natural looking smile.
Denture treatment is customized specifically to each patient.
Our doctor will discuss with you available options, the duration of treatment, dental care and what you can expect during the process.
Oral exam & X-rays
Discuss your treatment options
Get any question answered
New You Dental Center offers several styles of dentures
and partials for the replacement of missing teeth.
For those with missing teeth, gaps in your smile can be fixed with partial dentures. A removable partial denture or bridge usually consists of replacement teeth attached to a pink or gum-colored plastic base.
Partial Options:
Metal Framework
Zirlux Partial
Visiclear
Valplast
These are needed when patients are missing all of their teeth in either the upper or lower arch.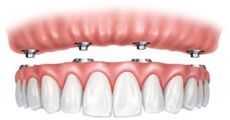 Implant-Supported Dentures
An implant-supported denture is a type of overdenture that is supported by and attached to implants. Implants hold your dentures in place, significantly increase chewing power and help preserve the bone in your jaw.
What Our Patients are Saying
"This place is phenomenal. I had a bad experience at another dental office, and I'm glad I did because it brought me here. The team here would get a 10 star rating from me, and this is my new and permanent
Dental Office." – A. H.